Roof Repairs and Restoration in Adelaide
If you're looking to transform your home's appearance, a roof restoration is the first way that you can bring vitality and energy to an outdated or damaged roof. Some different types of fixes and methods can be applied to your roof:
Tiled Roof Restoration
Metal Roof Restoration
Ride Capping, Re-bedding & Pointing
Roof Leaks & Maintenance
Environmental damages, materials, roof design, and durability are items that Utter Gutters will consider during the process. This simple technique can easily save you time and money, as we look a little deeper into finding the right materials and items to improve your roof.
Our Roof technicians are experienced and knowledgeable in all aspects of roof repairs and restoration. Utter Gutters are here to help you throughout the whole transformation and are happy to answer any questions that you may have.
Do I need a Roof Repair or a Roof Restoration?
If you've had issues with your roof and not entirely sure what's required, Utter Gutters can do an extensive review of your roof to see whether you require a roof repair or roof restoration.
Roof repairs can also be targeted in one particular area. An example could be there is rust that may have broken through, a small or multiple leakages, or tiles that have become loose. This can be as simple as a few hours to repair to upwards of a day, and won't take up too much of your time. Whether it's a small or big fix, Utter Gutters can help.
Roof Restoration is replacing the entirety of your current roof with a brand-new one. A replacement is only required in the most extreme circumstances where there are simply too many repairs, and installing a new roof would be a more efficient process.
Whether you're thinking that it's a small repair, or you require a much bigger roof restoration, call us on 08 8207 4999 to speak with one of our roofing specialists.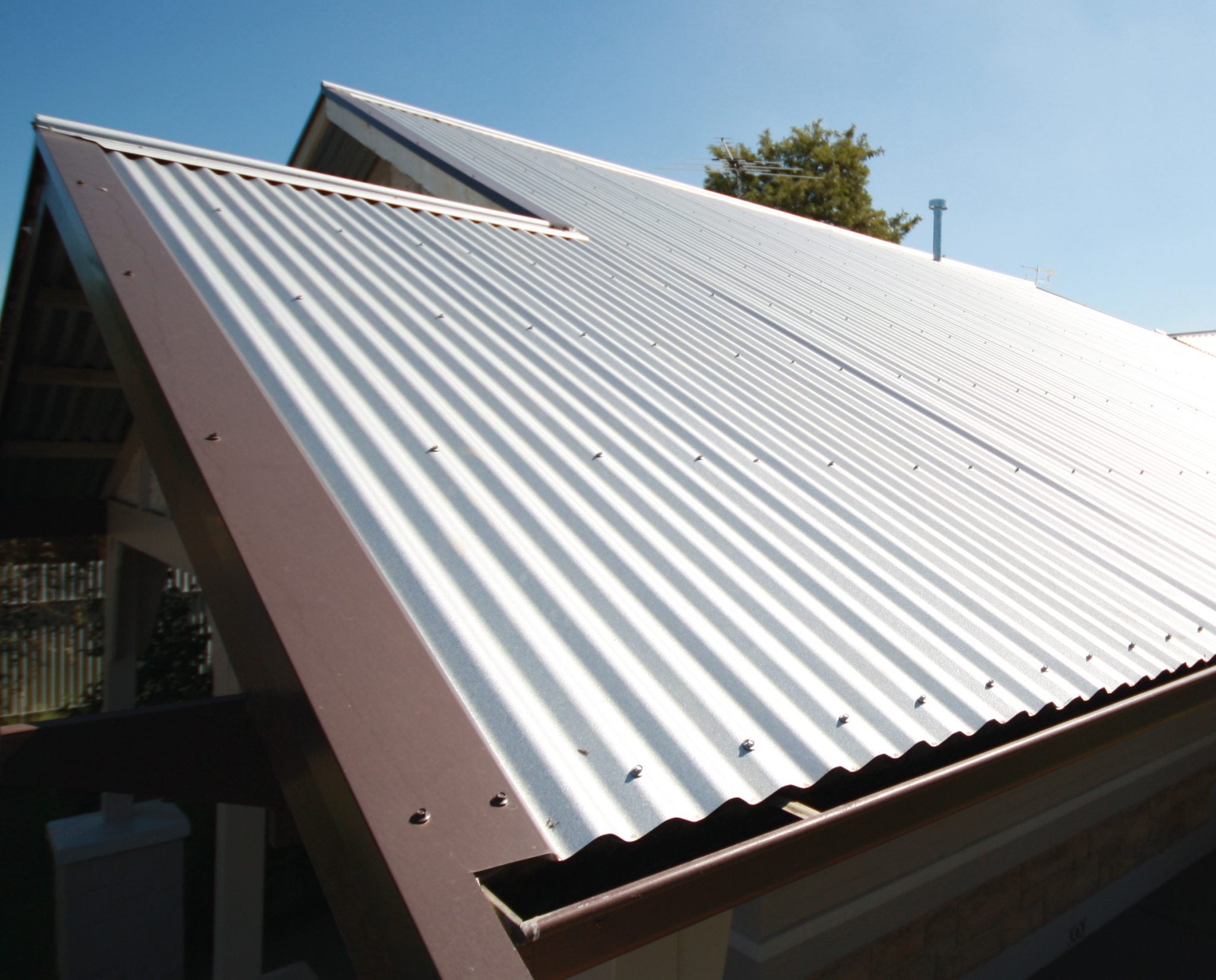 Serving all areas of Adelaide for Roof Repairs
When finding the right roofing professional in Adelaide, there is no one more reliable than Utter Gutters. If you're looking for high-quality roof repairs in Adelaide and South Australia, call Utter Gutters for a free quote.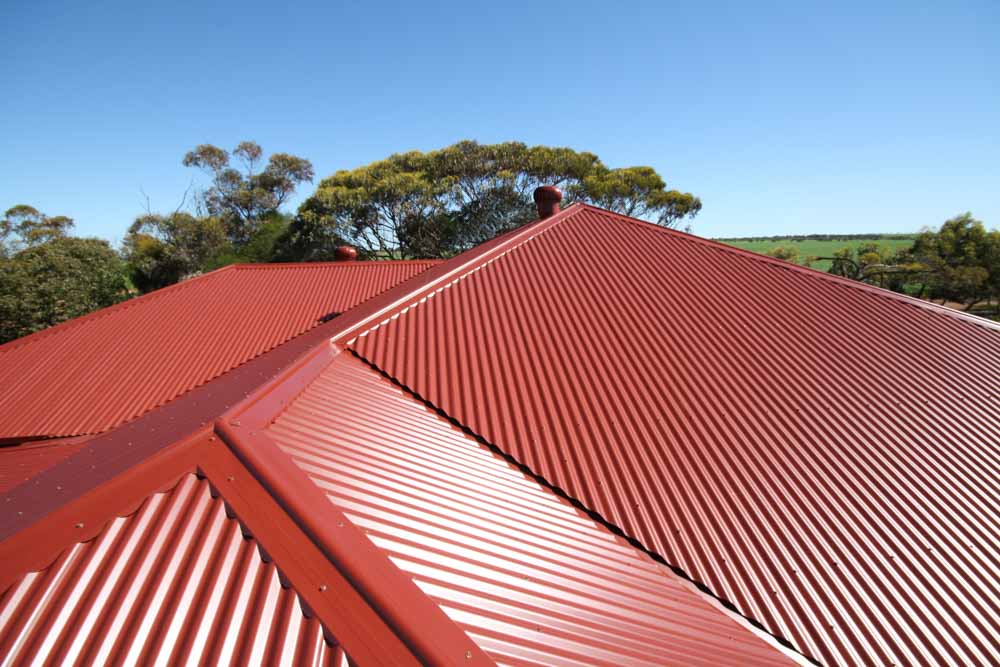 Re-roofing with Colorbond®
Change the appearance or upgrade your exterior with a Colourbond Roof. Re-roofing is an effective way of eliminating leaks and drips, as well as giving your home a new-look and feel. Whether you're looking to reroof your whole home or a section, no job is too big or too small.
Utter Gutters works with Colourbond and their wide range of colours to pick the right style and colour to suit your home. We can help in choosing the right style and finding the best solution to manage any previous weather damage or water runoffs from pitched roofs.
If you're considering selling your home and want to make sure that it's of high value, re-roofing is another option to enrich the exterior of your home.
All of our roofs come with a 20-year manufacturer's warranty so you can rest easy knowing that your roof was crafted from top-quality steel. It will be able to hold during the extremes of heat, wet and cold temperatures, and is made to be built to last
As one of Adelaide's well-known home improvement companies, we take pride in using only the finest materials and qualified roofing experts.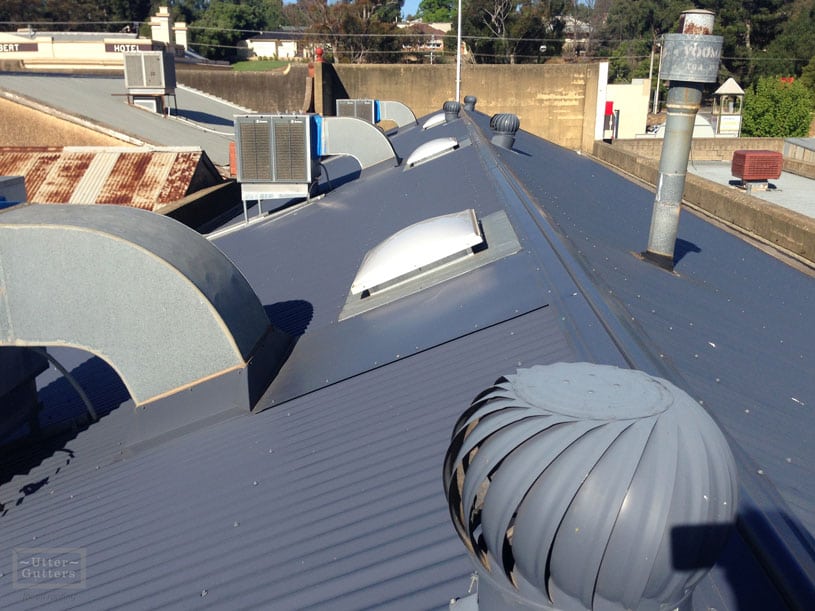 Commercial Roofing
Keep your work environment safe throughout the year with a commercial style roof. Larger buildings mean a larger roof area and water catchments, and protecting each element is important to make sure no leakage or damage escapes and goes into your building. Such items that considered for commercial roofing include Air Condition Units, Vents, Turbine Ventilators, and Sky Lights.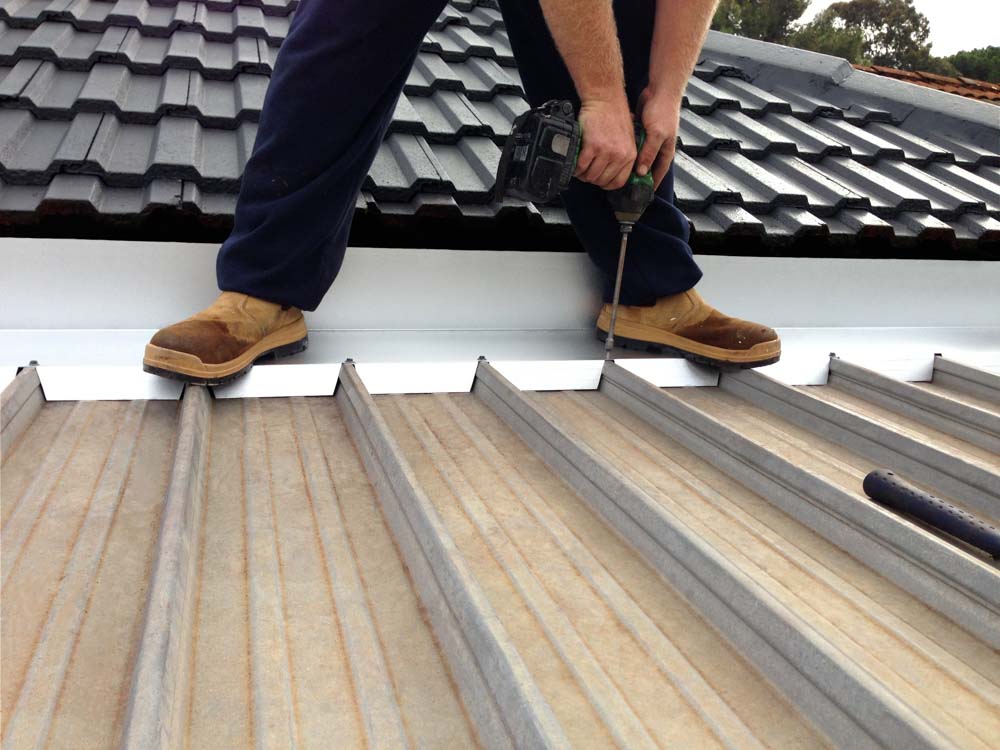 Roof Flashing
Flashing is either aluminium or steel used over joints to prevent water seeping in and causing damage. Not all homes require flashing, however, it is dependent on the style and material that used for your roof.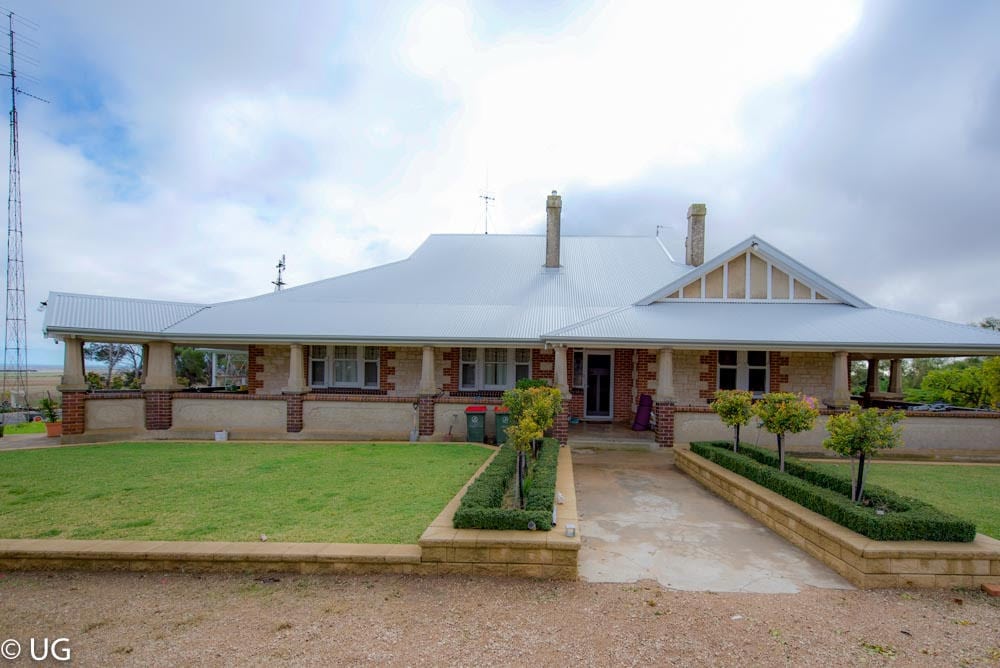 We can turn your dreams and ideas into reality
A roof is much more that just a waterproof covering on top of your home. It's also forms a significant portion of the architectural profile of your home. With a little imagination, it's possible to turn a mundane roof covering into a spectacular feature of your home. Our tradesmen are highly experienced at designing and building specialised roof structures that can be added to your existing roof to create a feature that is completely unique to your home. 'If you can think it, we can build it'.
Colorbond® Colour Chart
Utter Gutters uses Colourbond steel as its strong, energy smart, and tried and tested in Australian conditions. Their wide range of colours and designs means it's easy to pick what will suit your existing or future home. The styles consist of contemporary, classic, matt, fencing, or ultra, and each has their own palette of bold, light or dark, cool or warm.

Choosing the right colour for your roof