Gutter Installation and repairs in Adelaide
Utter Gutter's has an extensive range of styles that can not only compliment your home's appearance but offer the most effective solution for excess water and leakages from your roof. A wide selection of styles and colours to choose from, including traditional colonial to today's minimalist designs, we have a gutter profile for any home.
At Utter Gutters, all of our quotes are free of charge. We've fixed and repaired gutters for over 25 years, and use cutting-edge tools that other Adelaide companies don't. We will inspect your gutters with our technicians, and put together a detailed document that explains the problems found and specifications of materials. To ensure the best of service, our tailored made documents go into great detail so that no space is left unturned.
To arrange a free quote or to have one of your experience Roofing Technicians come to your home, call us on 08 8369 3633. There is no obligation, however, customers have valued the advice given when going through the decision process.
Gutters Types
Downpipes
Downpipes are necessary for all guttering systems as they channel the water to either rainwater tanks and reservoirs, trees and gardens or underground to the local storm water in your area. For this reason there are a variety of Downpipes profiles, materials to choose from and colours to be both practical and complimentary to your home or building. Optional Rainheads and leaf catchers help to protect your gutters and Downpipes as well as provide cleaner water.
Timber Fascias
Timber Fascias are part of the structure that guttering is usually mounted on to effectively carry the water. It is important that the timbers are in sound condition but after years of leaking and overflowing some areas may cause fascia rot and weaken the integrity of this crucial support. Utter Gutters provide many solutions to repair or replace your Timber fascias.
Fascia Capping
Fascia Capping is a great way to modernise your tired old timber fascias giving it a neat clean finish with all the benefits of Colorbond. The Colorbond wraps the fascia that is visible covering all the blemishes in your existing timber fascia. It acts as a protection from all the weather conditions and comes with the warranty and colour range of Colorbond.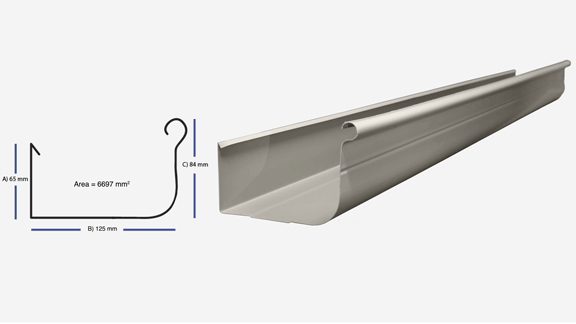 Quad 125 Gutter

Quad Gutter is so adaptable because of its classic form. It can blend perfectly with older style colonial and cottage homes and is also used extensively in new home construction. It is available in a wide choice of sizes and can be optioned with slots to prevent water overflow.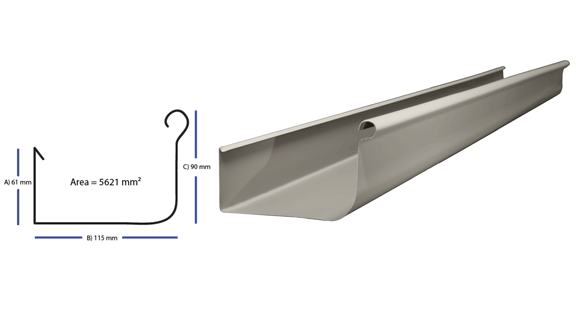 Quad 115 Gutter

Quad Gutter also known as D Gutter, with it's classic profile is suited for most styles of homes. Available in 3 widths 115mm, 125mm and 150mm for commercial applications where more capacity is needed.  It comes in a wide range of Colorbond colours as well as Zincalume and Galvanised.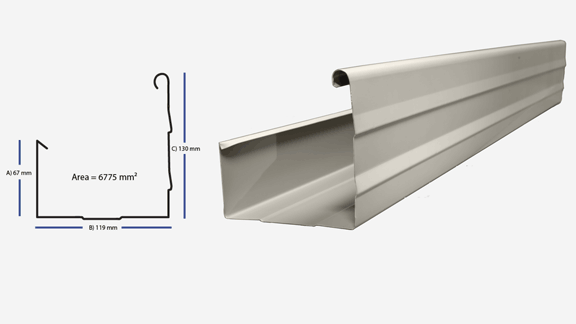 VFC Gutter

VFC Gutter has a compact, modern appearance that suits contemporary homes. It has a square front that is designed to hide the end of the roof sheets, providing a neat face to your roofing. It is available with a return at the back of the gutter for verandah attachments.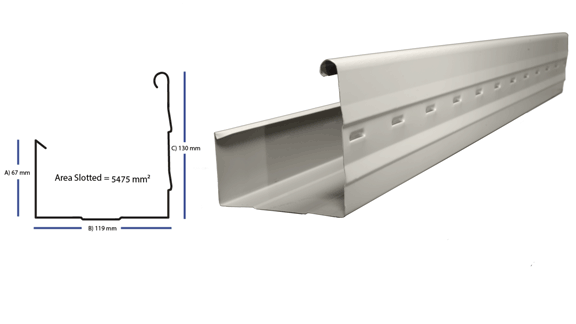 VFC Slotted Gutter

Designed to hide the roof sheets or roof tiles from view, this Gutter has a smooth face with simple lines that will compliment any style of home from colonial to contemporary. It is available with slots to allow excess water to overflow during heavy downpours.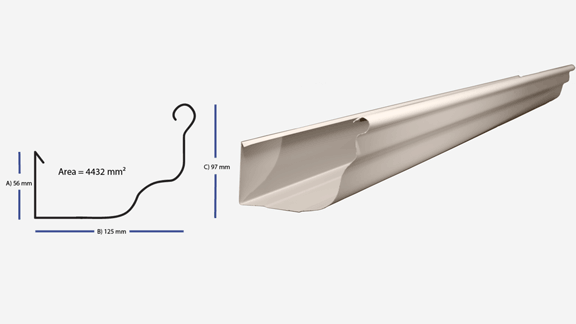 OG Gutter

Stratco OG Gutter is a traditional gutter with a charismatic profile. 'OG' stands for 'Old Gothic'. Its style makes it the ideal choice for use on both traditional and modern homes. OG Gutter is available in two sizes of 125mm, and 150mm, depending on your State.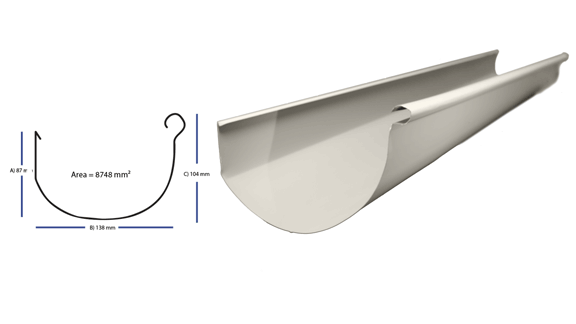 Smoothline Gutter

When attached to fascia, Smoothline Gutter has the same appearance as Half Round Gutter. However unlike Half Round Gutter, Smoothline has a flat back. Smoothline Gutter is easy to fix, easy to paint and maintain, as is economical because it uses internal brackets.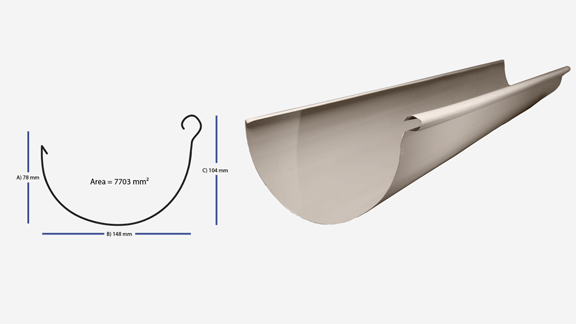 Half Round Gutter

The appealing shape of Half Round Gutter is largely self cleaning and has a good water carrying ability due to its wide 150mm diameter. Half Round is ideal for modern homes and is also popular on industrial and office buildings because of its clean, smooth, practical shape.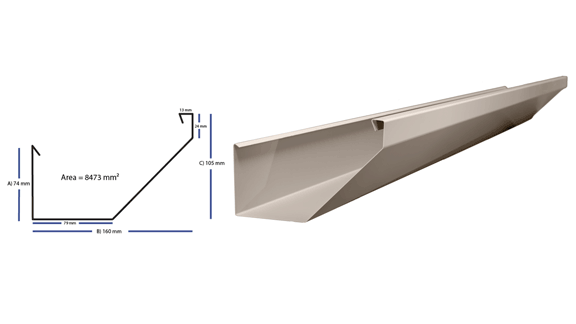 Edge Gutter

Edge gutter is an impressively high front gutter with generous water carrying capacities. It has a smooth and neat appearance to suit all modern, contemporary and architecturally designed homes. It has the ability to be made in a variety of sizes.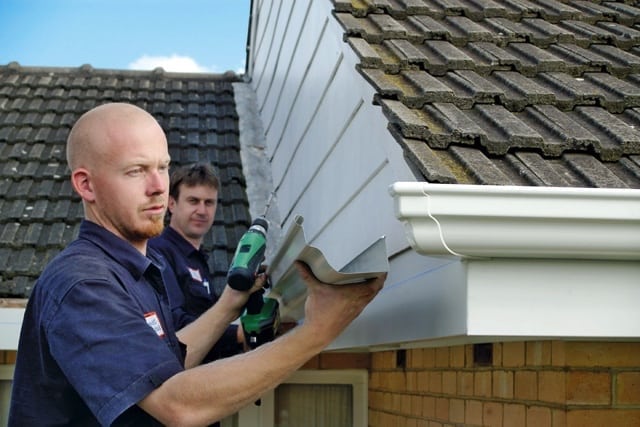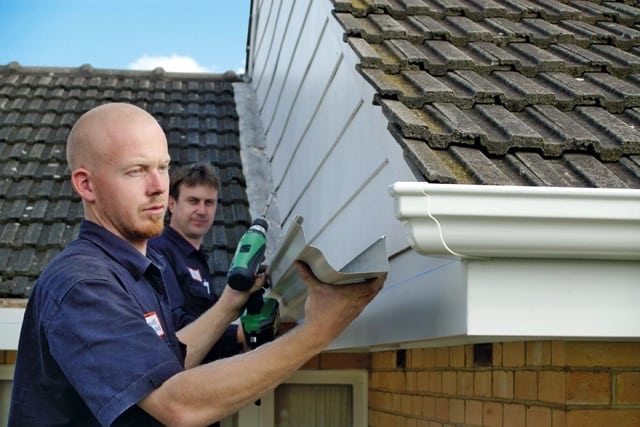 Installing Gutters The Right Way
When it's time to install new gutters to your home, it's best to not make it a DIY job and rather get the professionals to take care of the job.
We always check to make the new gutters are at the correct level. Leaving it unchanged will cause more issues down the track.
To set the falls correctly, we remove the Scotia, which is the bead of timber under the gutter. This helps us give more range and movement as we begin to adjust the gutter along its full length.
Once the Scotia is removed, water can no longer remain trapped behind the gutter and makes it an easier way to detect leaks, whilst eliminating the risk of wood rot.
The new guttering will give a much smoother and cleaner appearance to the outer edges of your roof.
Gutters are difficult to install if one person does them, and if not installed correctly, it can cause more problems over time due to damage and water leakage. Utter Gutters are leading professionals in Gutter Installation, and are highly trained to install gutters to different types of homes and commercial businesses.