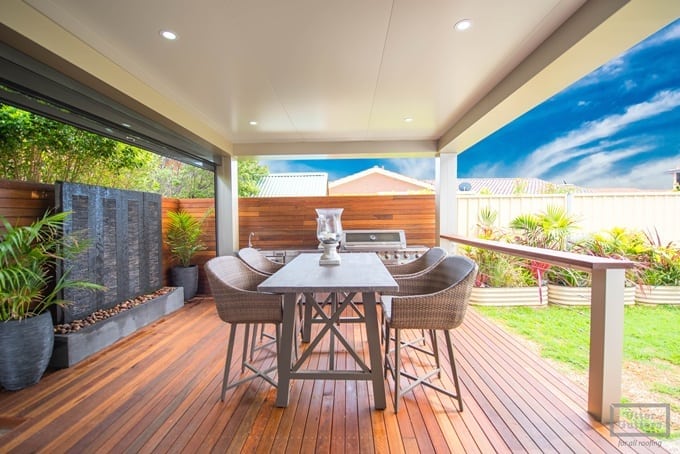 Stratco Cooldek

Insulated Roof
Measurably cooler on even the hottest days

Large span

Minimal supports needed

Spectacular, ceiling like finish

Reduces noise

Easily add downlights
A composite insulated panel that's proven to reduce temperature and noise
The Stratco Cooldek insulated panel is constructed by cleverly combining the roof, ceiling and insulation layer into a super strong wafer, offering an insulation rating of up to R 2.8, depending on the panel thickness you choose. The Cooldek panel consists of a polystyrene core, which is permanently bonded to a smooth, easy to clean, coloured steel underside, and a profiled, steel topside. The underside is available in 3 distinct styles including Smooth, the subtle finely ribbed Silkline, and the predominantly grooved V-Groove. Cooldek panels are available in three thicknesses and offer a range of insulation ratings; 50mm panel – up to R 1.6 75mm panel – up to R 2.2 100 mm panel – up to R 2.8

How to attach a pergola or verandah to your home
When a verandah or pergola is attached to a home, there is no reason why it shouldn't look as though it was built as part of the original house design.
No matter how complex the shape of the area, structure height, roof style, attachment points, or materials the house is built from, there is always a way to attach a verandah so that it is structurally sound and aesthetically pleasing.
In this video, we show you 7 of the most common ways to attach a verandah or pergola to your home.
The heat is on: Temperature Test
When it comes to verandahs and patios, not all roofs are equal, especially if you want to keep cool on a hot summers day. In this video, we do a comparison test between a corrugated roof, and a Stratco Cooldek roof, which is a composite insulated panel.
The radiant heat from the Stratco Cooldek insulated panel is a spectacular 15 degrees cooler than the corrugated roof, and creates a 2.5 degree drop in ambient temperature.
The versatility of the Stratco Cooldek insulated panel
The Stratco Outback Cooldek insulated panel is an extremely versatile product, which is not only functional and aesthetically pleasing, but can also be used to overcome a range of engineering and architectural challenges.
In this video, we explain the versatility of this product using a real customer example, and discuss the technical challenges we needed to overcome to give the customer exactly what they wanted.
Insulated Panel. The smart choice.
If you are thinking about an outdoor entertainment area, the roof you choose will be an important part of the decision making process. In the hot Australian climate, an insulated panel, such as the Stratco Cooldek, can reduce the temperature by up to 14 degrees.
An insulated panel also has inherent strength, which makes it possible to span large areas without the need for additional support structures. The ceiling like finish is both spectacular and functional, and can even accommodate downlights, creating the perfect lighting for a great nights entertainment.
Send us a message or request a quote.
Join our Cooldek mailing list for great tips, ideas and information.
If you would like to receive technical information, planning tips, and creative ideas to help make your home improvement the envy of the street, join our mailing list today. We respect your privacy 100%, and will never use your details for any reason other than providing you with the information you requested.