Outdoor Living Builder in Adelaide
Verandahs | Patios | Carports | Pergolas | Sunroof
As Australians, we're used to the harsh outback sun; it's just become accustomed to our lifestyle. However, it does also mean we need to make adjustments to deal with different temperatures. One area, in particular, is trying to stay cool/warm during weather conditions, and protecting assets from weather damage.
Not every day will be extreme weather, and having a verandah, patio or pergola is a great extension to your home for entertainment purposes.
On spring/summer nights when it's a little balmy and the sun is setting is a great time to sit out under your new extension. Not only adding value to your home, but a verandah, patio, or pergola can enhance the architectural design or compliment your home. It's a great investment for your home and can help increase the value and it's selling potential.
Through the use of three-dimensional computer designs, Utter Gutters can create a visual representation of what your new patio, verandah or pergola will look like. Some questions you may consider are the style, shape, or type to match your home.
Are you looking for a free-standing or attached structure?
Are you looking for a structure covered or uncovered?
What type of style are you looking at? Pitched or flat roof?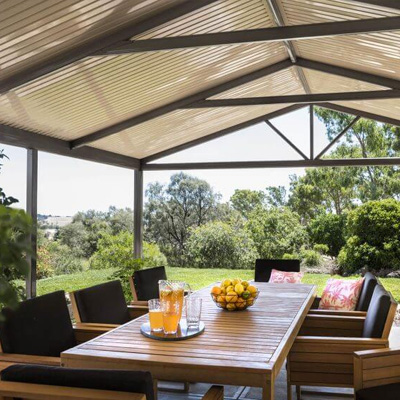 Gable Roof
Keep the theme and consistency of your roofing to your outdoor area with a Gable Roof. Featuring a strong presence and style, the Gable ends are filled with a sheet, lattice, or feature a timber trim.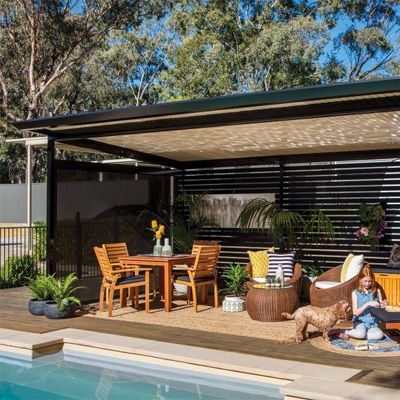 Flat Roof
Flat Roofs impresses a modern and contemporary feel. Ideally used for carports or shelters, flat roofs can be installed as an extension to your home or freestanding.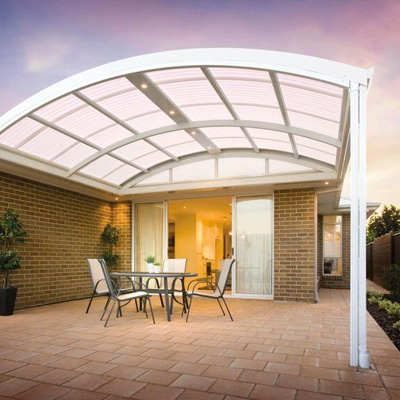 Curved Roof
Adding a sense of style and sophistication to your home can easily be achieved with the addition of a curved roof. The gentle curve opens up your outdoor entertainment space and provides year-round protection from weather conditions.
Free Standing or Attached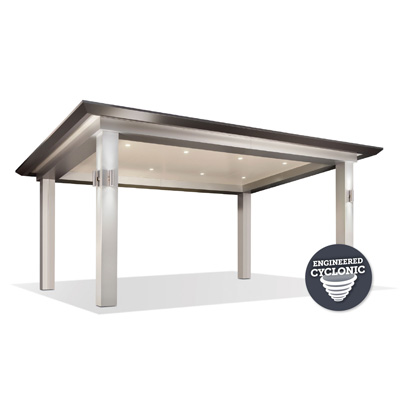 Freestanding Pergola
Freestanding may still be attached to your home in some way, but are structurally independent of the home. Easier to install, it means you can have the pergola from whatever distance from the house you like.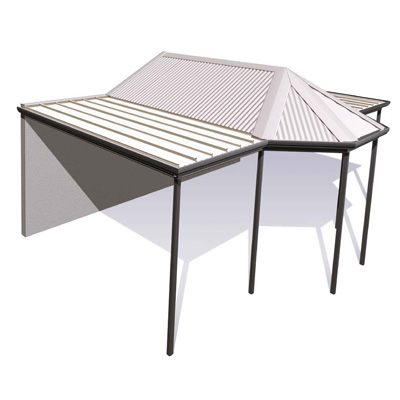 Attached Verandah
Being attached means that it's connected directly to your home. The design and structure can then complement the design and style to keep consistency from indoor to outdoor.
Stratco Outback Patio
Open your home to the outside and create a patio space that is enjoyed throughout the year. Under a Stratco Outback Patio, you are protected from the elements, expanding your possibilities for entertaining, storage or enjoying your garden.
A patio is a perfect way to capture the magic of outdoor living, protecting you from the elements while preserving that open-air experience. Your outdoor living space is as simple as a basic covering or as complex as an outdoor room.
At Utter Gutters, we have built patios and verandahs for years, and we know quality engineering when we see it. We also commit from the day we started the business that we would never compromise on quality, which is why Stratco has always been our preferred supplier for patios and verandahs.
Utter Gutters can help design a patio attached or freestanding, and make it consistent with the style of your home by using the right materials and colours. We can manage the entirety of the job without disruptions or delays.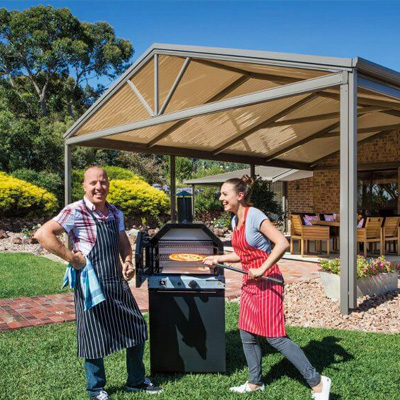 Stratco Pavillion
A Stratco Pavillion is so much more than just an outdoor living area. Suitable for new builds and retrofit applications, freestanding or attached, Pavilion will embrace and enrich any home environment. The classical architectural proportions of Pavilion created by larger columns and bulkheads, and the distinctive Edge gutter, respond to emerging trends for a more substantial looking structure.
The Pavilion sets the standard in both style and affordability and is sure to complement any home design. A Pavilion also can be built as a free-standing structure or attached to your home.
Thanks to the engineering capabilities it has been designed to minimise the number of columns required and maximise roof spans, giving the pavilion a dramatic sense of openness and space.
Utter Gutters is an authorised Stratco Pavilion dealer which means that we can not only supply and install the Pavilion, it also means that your installation will receive a valid Stratco warranty. Our investment in infrastructure, training and ways ensure that we meet the very high standards required to be approved as a Pavilion dealer.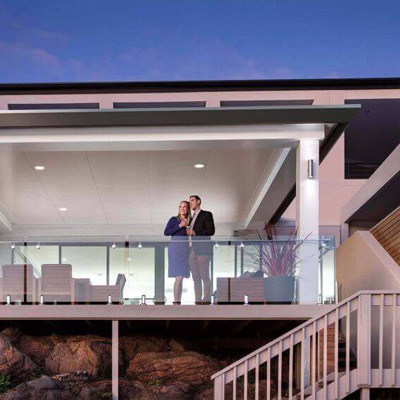 Ambient Outdoor Blinds
Give a sense of privacy and sophistication to your pergola or verandah with a Stratco Ambient Outdoor Blind. The Ambient Outdoor Blind matches well with the Stratco Pavillion and as it can be specifically designed to suit the colours of your entertainment area and home.
Utter Gutters can install the outdoor blind and make sure that it fits correctly with the dimensions of your pergola or verandah.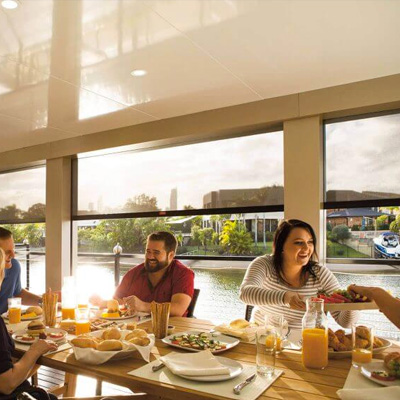 Outback Sunroof: Innovative Roofing
Electronically controlled, the Outback Sunroof gives you the option to open and close the louvres to your desired position. Let the sunshine come through on clear days, or provide protection when it begins to rain.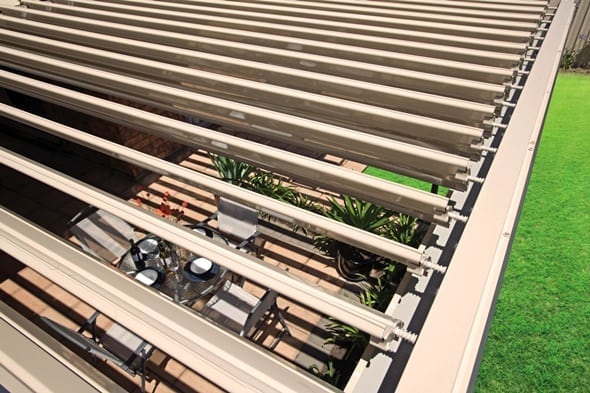 Send us a message or request a quote.