If you have been thinking about an outdoor entertainment space, then here's some food for thought. We had a chat with one of our recent customers, Fred and Wendy, about why they chose the Pavilion to create a contemporary entertainment area in place of their existing patio. They also gave us an interesting insight into the process they went through to choose who they wanted to install their Pavilion, and why they ultimately chose Utter Gutters.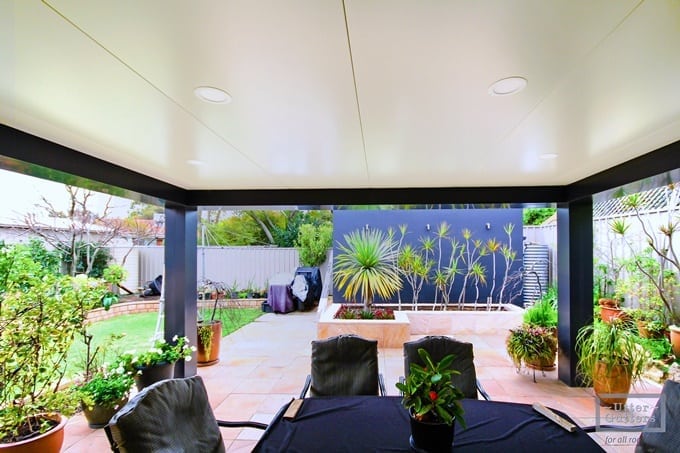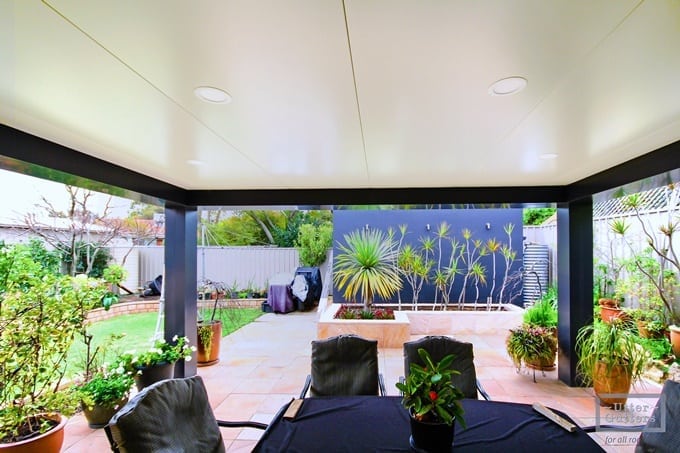 Objective & Challenges
Our goal was to completely renovate our outdoor entertainment area, which included replacing an old 70's style Oregon and shade-cloth patio.
Our biggest challenge was finding a product that would complement the style of our cream brick home, which had been built in the late 60's. Virtually everything on the market had a very modern look which we felt would clash with the design of our home.
There were also a number of engineering challenges to factor in as we wanted the new structure to attach to the house, just as our old patio had done. Importantly, we had also just finished a major kitchen renovation, which opened up into the entertainment area, so it was critical that whatever we chose had to integrate with the kitchen design.
The search begins
It didn't take long before we realised that finding a replacement patio was going to be much harder than we first thought. While there were some interesting designs, they just didn't look right for our home, and quite frankly, they simply weren't the quality we were looking for. As my wife quite poignantly stated, 'they just look like a shed without walls'.
One day we were watching TV when the Stratco Pavilion ad appeared. It was the first time we had seen it, and as soon as it was over my wife said what we were both thinking, 'I want one of them!'.
Not long after we saw the ad, we were driving down Northeast Road and noticed that a Pavilion was being erected in the Utter Gutters display yard. We had to have a look, so we turned around and had a chat with the guys.
The real thing was even more impressive than the ad. We were in no doubt and immediately arranged to have one of the Roof Technicians come over and give us a quote.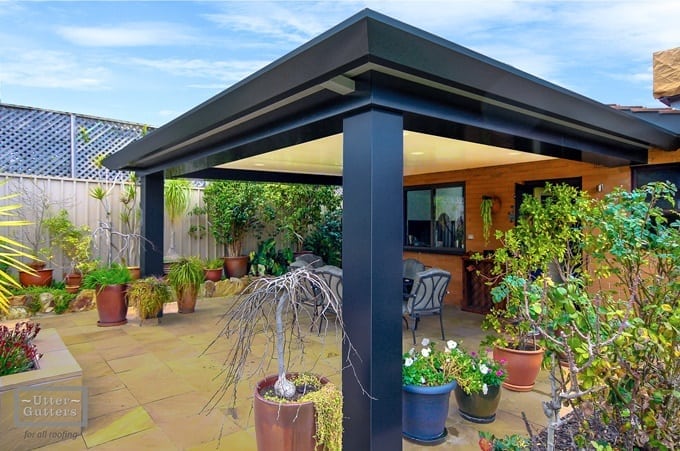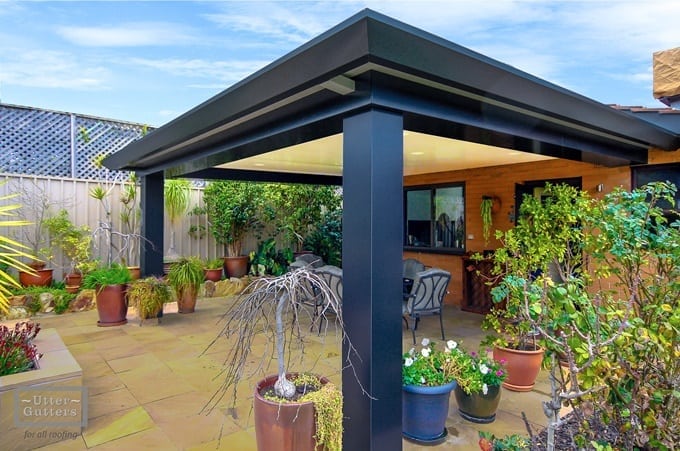 Why we chose the Pavilion
From the moment we first saw the Pavilion, we knew it was a high end product compared to anything else on the market. The thought that had gone into its design, the precision engineering, the solid construction, and the quality of the materials created a total package that stood head and shoulders above anything else in the market.
What really surprised us was the price. Considering the materials and design of the Pavilion compared to similar products, we felt like we were getting a lot for our money.
This point alone made our decision very easy. And most importantly, the Pavilion won hands down for the way it complemented our home. We couldn't be happier.
Why we went with Utter Gutters
From the very beginning, we knew we were in safe hands. When we had the initial measure done, there were a number of technical issues that we needed to address. The Roof Technician was fantastic the way he handled our questions and came up with some very practical solutions.
Once we were ready to go ahead, Utter Gutters sent another guy out to do a Check Measure, and he was able to offer additional advice on a number of points that we hadn't even thought about.
We had spoken to other companies, but their approach was completely different. They were just there for the sale, in fact some didn't even bother getting back to us with a price, which was disappointing.
When it came to the installation, we really knew we had made the right choice. The tradesmen were outstanding. They treated our home and the whole build process with absolute respect.
The care and workmanship applied to our Pavilion ensured that it was finished to perfection. Not a mark anywhere, all the joins were beautifully finished, and the entire structure was immaculate.
Want to know more about the beautiful Stratco Pavilion? Then take a look at the following links.
All you need to know about the Pavilion 
Pavilion: Creating luxury alfresco living for your home