By the time you identify the first signs of a failing guttering system, such as moisture under the gutter, rust spots, a streak of discoloured water trailing down the facia, occasional overflowing, or even sagging in places, you can be sure that your guttering is on it's last legs.
It's time to get that gutter replaced before there is serious structural damage to your home. But you may be wondering what's involved, and what you need to know about guttering and how to choose the right roof plumbing company. We've attempted to make that process a little easier by summarising some of the key points that will help you get the best value and the right solution for your home.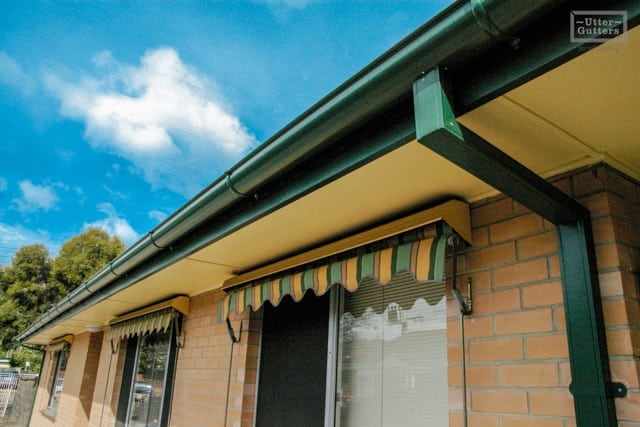 What does it cost to get a gutter replacement quote?
At Utter Gutters, we never charge to provide a quote. In fact, we give you much more than just a quote. A thorough inspection is always carried out by our experienced Roof Technicians. The inspection is documented in a detailed report that includes any problems they identified that need repairing, and the specifications for all materials required to replace your guttering.
Who's coming to your home?
Established company or fly-by-nighter?
Current affairs programs are littered with stories about homeowners who have received a seemingly great deal for a home improvement from a tradesman who has nothing more than a ute, a mobile phone and a post office box address. When things can wrong, they are impossible to track down, while the homeowner is stuck with even more cost to remedy the shoddy workmanship. As an established company with a base office, show yard and factory, Utter Gutters will always be available to contact in the unlikely event that a problem becomes evident. We take any complaint seriously, as we pride ourselves on our industry leading quality and workmanship – it's what we have built our reputation on.
Are they a company that is skilled in providing water management solutions, or do they simply flog gutters?
Guttering is surprisingly complex for what is a seemingly simple part of the home. In reality, guttering is part of a total water management system, and every component needs to work perfectly to protect your home from potentially catastrophic water damage. A professional roof plumbing company will always take the time to analyse the entire system to make sure there aren't any underlying problems that have contributed to the existing gutters flooding or leaking. In some cases, the gutter profile may have never been correct to begin with, or there may be structural issues relating to the initial installation, or deterioration over time. While many roof plumbing companies employ sales people (many who have never even worked in the industry before) to quote on gutter replacement, our team are all trained Roofing Technicians who use their extensive experience to find the best solution to often complex problems.
Do the tradesmen have Police clearance?
A home is every family's castle; the one place where you want to feel safe and secure, so it's important to know that anyone who is going to be spending time working on or in your home, doesn't have a criminal record. At Utter Gutters, all our tradesmen are required to obtain a Police clearance prior to joining our company.
Does the company have adequate Insurance and Public Liability cover?
A reality of life is that occasionally things can go wrong when you least expect, which is why most people have insurance to cover against personal injury and the unexpected loss or damage to their assets and possessions. Business is no different. If a roof plumbing company is going to conduct work on your home, it is important to make sure that they have professional Indemnity Insurance to cover against accidental damage to your home or assets, and Public Liability insurance to cover against personal injury to anyone on your property as result of the work or materials they have used. Your personal home and contents insurance may not cover damage or injury caused by a business on your property. For peace of mind, check the insurance credentials of the roof plumbing company you choose to replace your gutters.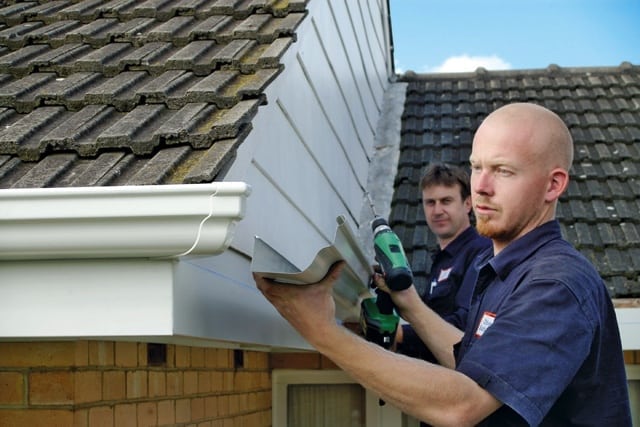 Compare the variations in quote details
If there is a variation in price between quotes, you can usually be sure that there is also a variation in what has been quoted. Check that the quote is based on the same gutter profile. Also compare the work required to prepare and install the gutters. Timber work, such as fascias are often water damaged by leaking gutters, and must be repaired or replaced for your new gutters to be hung correctly and prevent further structural damage to your home. There may also be the need to replace downpipes, or install facia capping to cover a damaged, but structurally sound facia.
Does the quote contain a detailed specification of the products and work to be carried out?  
Always check that the quote you receive includes a detailed description of the work to be carried out, including structural repairs or replacement, and a detailed summary and specification of the materials that will be used. If you simply receive a price scribbled on the back of a business card, it's impossible to know what has been quoted, and importantly, what hasn't. Once a quote becomes a signed contract, it is a legally binding document. Never just accept a verbal description of the work, as the business is only obliged to supply what is actually written in the contract. A document that only contains a general description of the work is effectively an open ended contract that doesn't oblige the company to do anything more than they have actually written. At Utter Gutters, we not only give you a detailed specification of the work we propose to do, we also provide you with a report that summarises the inspection we conducted, and why we recommend the solutions we have quoted.
Don't get pushed into that 'special offer'
Large discount offers can be very tempting, but are they genuine? A common tactic by some companies is to offer a homeowner thousands of dollars off the price if they sign a contract right there and then. The homeowner is generally told that the offer is only valid that day, and won't be offered again. When you are exposed to these tactics, you are not only being placed under un-necessary pressure, but you also risk not getting the job you think you are paying for. No business can operate at a loss, and large discount offers would simply be unprofitable for the business if the offer was genuine.
Why it pays to get more than one quote
Simply getting one quote to get your gutters replaced doesn't give you the ability to benchmark the price and work required to get the job done properly. If a quote is prepared correctly, the entire process, including inspection and documenting the quote details should take approximately one hour. By thoroughly analysing two to three quotes, you will not only get a good idea of what you should be paying to get your gutters replaced, if you choose reputable companies, they should also be able to identify other issues such as rusty downpipes and any remedial work that needs to be done such as replacing or repairing damaged timber work, if required.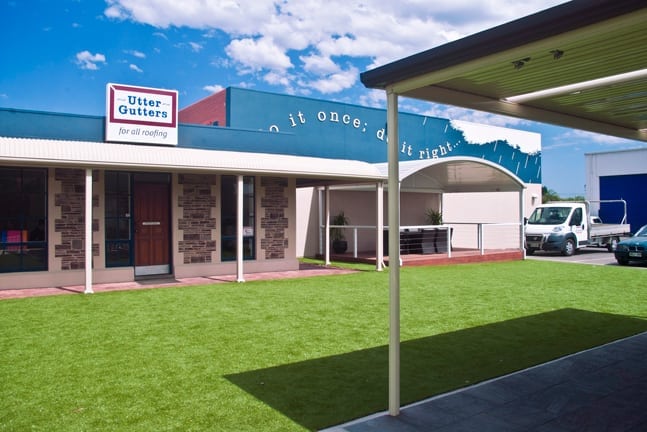 Essential step – check for a valid builders licence
A builder's licence is important evidence that a business has the skills to carry out the work they propose to do. What many homeowners don't know is that a builder's licence is only issued for the specific skills of the license holder. Ask to look at the back of the builders licence to make sure that the business or individual is actually licensed to do the work they are quoting. You can check a company's builder's licence details quickly and easily by following the SA Government's Consumer & Business Services link https://secure.cbs.sa.gov.au/OccLicPubReg/LicenceSearch.php. The site gives you the option to either type in a licence number, or a business or individuals name.
Don't take a chance on your product warranty
Another reason why it is so important to verify the builder's licence of the company you are dealing with is your product warranty. Leading guttering manufacturers will only provide a product warranty on new guttering if it is installed by a licensed roof plumber with a valid builders licence. Authorised dealer warranty not on carports only
Like to know more?
If you would like more information about replacing your gutters, or any of our roofing products and services, please give us a call on  08 8369 3633  to arrange for one of our experienced Roofing Technicians to visit your home. There is no obligation, and as many of our customers have found, their advice has proven valuable throughout the decision making process.