Control sunlight and airflow with the touch of a button
A covered entertainment area is the ideal way to enjoy being outdoors in almost any weather, but there are times when it would be nice to have the best of both worlds. Cover when you need it; or an open, airy, even sunny space when you want it. Well you really can have both with one outstanding piece of engineering, the Stratco Outback Sunroof.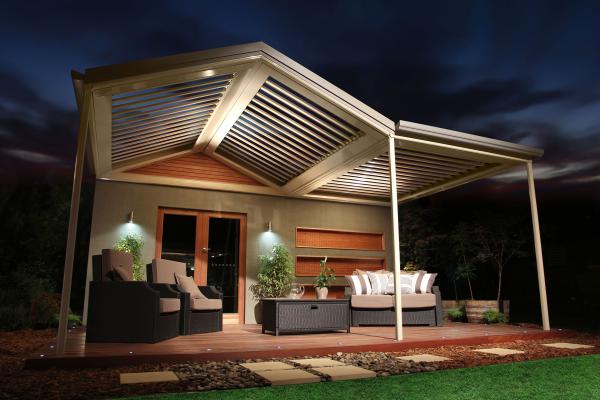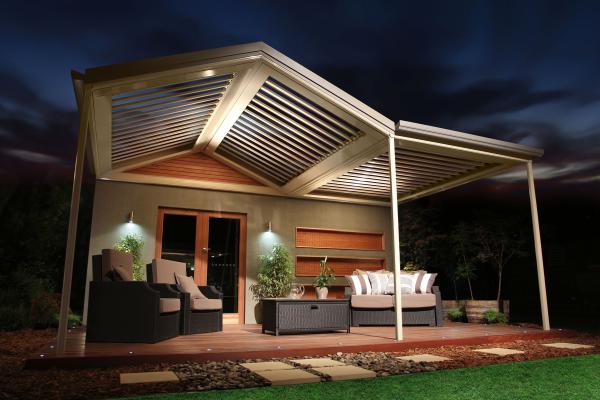 Recently redesigned for even better performance and visual appeal, the Sunroof utilises an innovative, motor driven, series of interlocking louvres that can be remotely adjusted to create the perfect balance of light and shade, and just the right level of cover and ventilation. And when you need total protection, the Sunroof closes to create an attractive water-tight covering.
Ceiling-like interlocking profile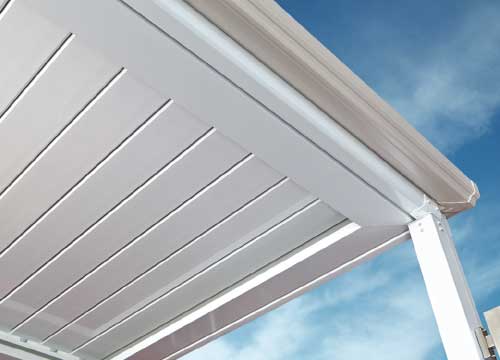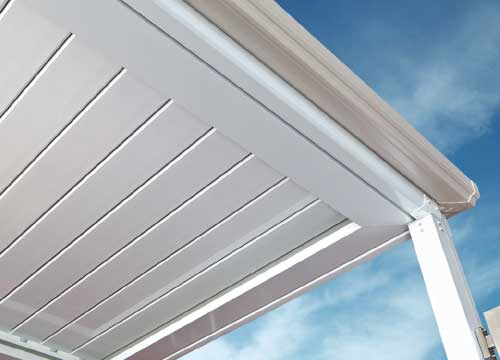 The Sunroof louvres are engineered to interlock perfectly in the closed position, creating a ceiling like profile that appears smooth and flat with a fine ribbing effect at even intervals.
The powerful electric motor and mechanical linkages are all completely concealed for quiet, trouble free operation.
Infinite control, right at your fingertips
Setting the angle of the Sunroof louvres is as effortless as pressing a button on your remote control.
The precise movement lets you set a position that blocks out direct sunlight, while allowing heat to escape, or a cool breeze to circulate around you. Or on cooler days, open the louvres to enjoy the suns gentle warming rays.
The Sunroof really does make it possible to customise your environment to exactly how you want it.
Eye on the sky – automatic rain sensor
The Outback Sunroof makes it possible to relax and forget about keeping an eye on the sky, even when the roof is wide open. The built in rain sensor detects the very first signs of rain, automatically closing the watertight roof in seconds. It's so quiet you won't even know it closed.
Integrate with other profiles
On e of the great features of the Stratco Outback range is the ability to seamlessly integrate a number of profiles all into one design. The Sunroof will never look out of place with other profiles in the Outback range. In fact each profile compliments the other, with the finished project looking like a perfectly engineered design exclusively for your home.
Want to know more?
For more information about the Stratco Outback Sunroof, please don't hesitate to call us on 08 8369 3633 for an obligation free chat with one of our specialist Roofing Technicians.